February 9, 2014
STUDENT BLOG: You're Not A USC Student Until…
        When the Coachella lineup was announced a few weeks ago, I expected nothing less than an enormous blow up of social media statuses. Don't get me wrong, seeing the lineup did make me scream like a preteen girl at a Justin Bieber concert (too soon?). However, I totally underestimated that about ninety-nine percent of all these tweets and statuses were all coming from my friends at USC. Typical USC student behavior, I thought. Then I started to think of all the things USC students do, and the sort of traditions that Trojans pass down year after year. So I decided to compile a list of things that you practically should do in order to be a real USC student. So here we go.
You're not a USC student until….
1) You attend Coachella or one of the many music festivals in SoCal.
You will hear everyone talk about it and Instagram selfies with their tickets. Costumes will be made. It's a battle to see who can post the first selfie at Coachella Weekend One. One of the perks of being a Trojan is that USC is within driving distance of these avant-garde music festivals. And for all you southern belles out there, Stagecoach Festival is also around the corner. But maybe you prefer more of an adventurous day at a Southern California theme park? Then remember to stop by the USC Ticket Office located in the Student Union for discounted prices on theme park tickets, movie tickets, and tons of amazing deals!

2) You order the carne asada fries from Chano's in the wee hours of the morning.

At first glance I did not think much of Chano's, but my good friend Gina, or otherwise known as the Chano's Queen, taught me to not judge a dive by its cover until I've savored the scrumptious expert combination of cheeses, meats, and fries it sells. For those of you that don't know what Chano's is, it's a tiny fast food joint at the corner of Figueroa and 30th Street, and is open very late, a popular destination for students craving greasy food in the early hours of the morning. The go-to item on the menu is the carne asada fries, and it's quite a large portion so most people split it.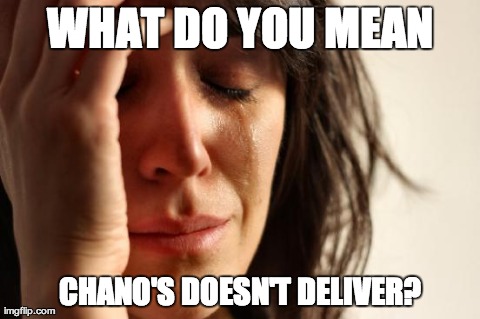 3) You storm the field during the football games.
After a glorious victory by your favorite football team, everyone runs out onto the field to celebrate another Trojan win. Feel free to dance, scream, or even tastefully twerk if you would like.
4) You pull an "all-nighter" in Club Leavey.
No high heels necessary at Club Leavey! I mean, you could but you'd probably get some interesting looks. Students at USC like to nickname Leavey Library as "Club Leavey" because of all the raging that goes on in the middle of the night. As it's the only library on campus open 24/7, Trojans gather to make this pilgrimage to the mecca of academia to finish studying, write papers, and hopefully pull as few "all-nighters" as possible. Alas, sometimes you just get so busy there is no avoiding an "all-nighter" at Club Leavey once in a blue moon.
5) You eat a cinnamon sugar cronut from Spudnuts.
A delicacy of its time. I was actually introduced to the cronut at the beginning of my sophomore year and I can actually say it changed my life. The cronut is a croissant-donut hybrid that you can get from Spudnuts Donuts, a patisserie conveniently located across from Chano's! The most popular is the cinnamon sugar flavored one, well because, its absolutely delicious. So on your way back to your residence hall from Chano's, definitely grab a cronut. Just one bite will have you melting into sheer, sweet bliss.
6) You've Instagrammed your latte from Urth Caffé.

If you're a Los Angeles native, chances are you have probably done this on multiple counts. In that case, you're just ahead of the game. For all the Trojans new to Los Angeles, Urth Caffé has the most beautiful coffee drinks known to mankind. So whenever you trek to one of the many Urth Caffés don't forget to snap a photo, add a filter, and voila! You're too hipster.
7) You hashtag #FightOn your first day of classes.

#hashtag #trust #me #you #will #be #guilty #of #this #FightOn
8) You develop a crush on your Orientation Advisor because he/she is so good looking.

Just kidding. Unless you were in one of my groups last summer.
But don't worry; even if you find yourself being a stranger to any of these tasks you will still be a part of the best family in the world, the Trojan Family. You'll just watch everyone else take part these Trojan Traditions.
3 Comments
Leave a Reply
Submissions are moderated.